One of my biggest anxiety triggers is mess. Mess, clutter, dirt; they stress me out! I'm not a neat-freak and I'm not at all OCD. I think it's more of a self-esteem thing. The same way girls get depressed about their own bodies when they look at air brushed magazine models, I get depressed about my own home when I see furniture ads (or other people's homes on Facebook, or walk through Ikea). My parents never cleaned the house except one time a year for their big holiday party. Then my mom would go nuts, begging, imploring, demanding that we all help make the house "magazine ready". My mom was embarrassed about her own house, which was why we only had people over that one time a year. She was embarrassed, but exasperated and all but gave up by the time we started school.
House-envy is now at a whole new level with online house porn sites like Houzz.com and Pinterest telling us how to make a cute and useful entryway. I'm a stay-at-home-mom who spends most of her day cleaning, so why doesn't my house ever look like those pictures?! I've got all the same furniture from Ikea, yet my 1000 sqft home never looks quite like the adorable 350 sqft displays.
Pinterest version of Solsta sleeper couch vs. My version of Solsta sleeper couch. Hey, it's $179 couch that I got on FreeCycle. And I live with cats. And kids. This is real life, not perfectly rumbled sheets.
The reason my house, despite my best efforts, doesn't look like a display case is because it isn't a picture enhanced with professional photographers, perfectly placed knick-knacks, and filters. Everything online looks better because real life has been edited, cropped, and sepia-ed out of it. I know this, yet it doesn't change how I feel about my own house, my own children, my own mess. I still clutch at the idea of someone coming over and seeing my dust and clutter, my cat scratched couch and finger printed walls. I still feel frantic about the piles of mail in the entry way and the rubble of kids' toys all over the place.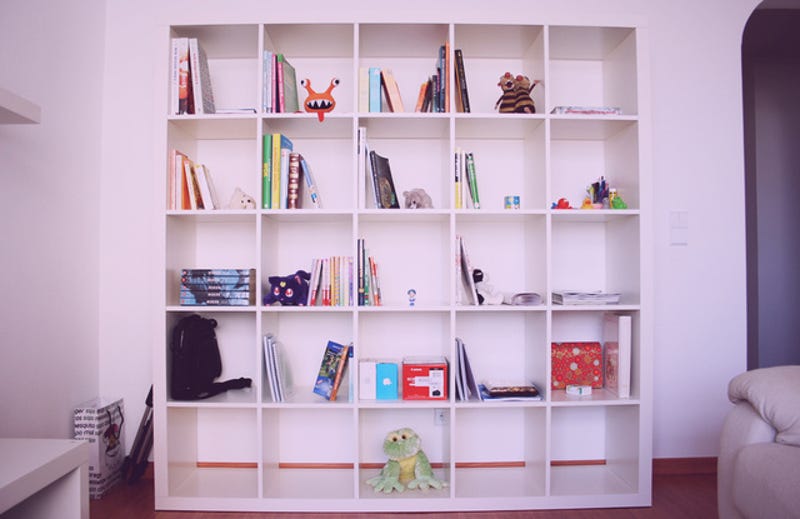 Hahaha! Apparently fictitious children don't read or play with toys! Gizmodo.com's professionally shot Expedit shelves vs. mine below.
So I came up with an idea. Look at the mess in a different way. Look at the beauty, the realism, and the art of the mess. Instead of having the kids pose in front of a pretty tree or a blank wall, I've been photographing them IN REAL LIFE doing their normal things, riding bikes across an unmowed yard, reading books amidst clutter, and playing on unmade beds. My mission is to expose the realness of parenting and growing up.
I call this one Shoes Left on Carpet. Everything about this is upsetting to me, but I've found that looking at it for what it is, my five year old's sneakers that he's left at the foot of the bunk bed in a tiny, junky room, from a tiny, junky house that we rent, calms me. Life with kids (and cats, and chickens, and husbands!) is sticky and messy and crumbly and glittery and gross and endearing and amazing. I don't want to deal with anxiety over something as insignificant as sneakers left on a carpet or crumbling drywall or peeling wallpaper. I want to rejoice in the fact that I have a super cute five year who makes his own bed and sometimes remembers to keep his stinky shoes off of it.
I've started an Instagram account to document the Art in the Mess. Please feel free to follow me @mazymom.